By Connor O'Reilly
---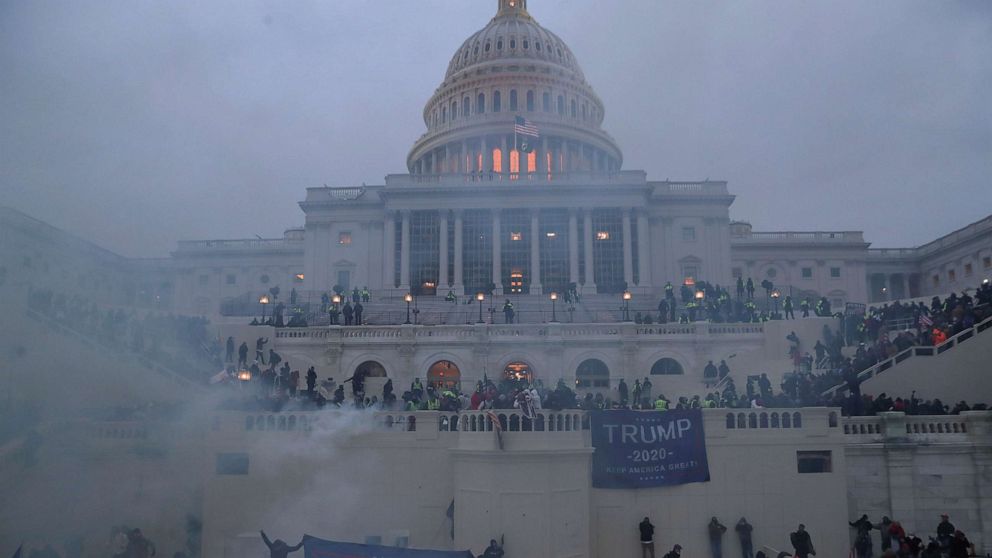 January 6th marked the 3rd day of my vacation in D.C. I had come to visit my friend but she works during the day. So, I found myself exploring downtown again. I had visited the National Mall the day before but the local chinatown didn't hold my interest as long as I was expecting. Once again I found myself walking the streets on my journey to see monuments when I heard chanting in the distance. As I approached, I could start to make out Trump flags waving and a river of people making their way down the street. There had been a rally the day before and curiosity got the better of me while I found myself following the crowd trying to figure out what the purpose was. That became abundantly clear when I saw the Capitol Building in the distance. The threats to senators being chanted sporadically throughout the crowd did their best to enlighten me as well to what these people hoped to accomplish. This was before they all picked up their nationalistic "USA, USA, USA!"
I have to say, it was an odd feeling walking amongst those people. Me being almost as far away on the political spectrum you can go from the crowd. There was an energy to them. Like a mix between excitement and anger. But you could hardly tell from just looks alone. Parents had brought their small children to this gathering. I was surprised to see the number of strollers being pushed along. It was almost as if we were all just taking a walk in the park. But then you'd look to the other side of the street and see a mass of people crowded around one person screaming about the destruction of America. The juxtaposition was almost funny if it wasn't as equally frightening.
…in America the struggle was befogged by the fact that the worst Fascists were they who disowned the word "Fascism" and preached enslavement to Capitalism under the style of Constitutional and Traditional Native American Liberty.

Sinclair Lewis, "It Can't Happen Here" 1935
As I followed in their wake, I noticed many of the police cheering on the people passing by. Some of them even sporting pro Trump facemasks. It's hard for me to imagine that these officers had no clue what was to come from this event as even I, having just stumbled into it, was getting an inkling of what many of the people planned to do then. There also seemed to be a lot fewer cops than I would expect for something like this. I'm not too familiar with the D.C. area but I still remember how many were out in my smaller hometown of Kansas City during the BLM marches I attended. There were guns on the rooftops back then.
I slowly came to a stop as we approached the Capitol building. Something telling me to not get too close. Observe from a distance. And so I did. A large group had already gathered at the front and at first, it was a typical looking protest from where I was standing. Signs, flags, chanting. But then, some of the protesters broke through and the storm gates were flooded with people running towards the building. Realization dawned as I connected the dots in my head and I got myself quickly out of there before the riot spilled over to me.
It was surreal watching the news a few miles away. Reading reports of senators being evacuated and seeing videos and pictures of the people in the building. Watching as the woman got shot trying to break in. A few hours gave me the needed time to organize everything I had witnessed and it did not comfort me. I was witness to an attempted coup. A mob of citizens, aided and encouraged by the cops, whipped up by nationalistic zeal, stormed the capital of America to place their leader back on the seat of power. This was America's most recent tasting of Fascism. It tested the nation's democracy that day and even though it did not break, I watched it bend.